The location, removal, and integrating of the bees to the bee farm, where we tend to and ensure the bees are happily thriving.
We will assess the area at your location to identify exactly, where the bees are located, to minimize potential damage and impact to your property. Once the queen and her hive have been caught, we relocate the hive to the bee farm and integrate them into the population. The process of catching the bees can sometimes take up to a week, to safely remove the hive, with as little distress to the bees as possible. Depending on the size and behavior of the wild hive, an average removal time is likely to be three days (This can and does vary).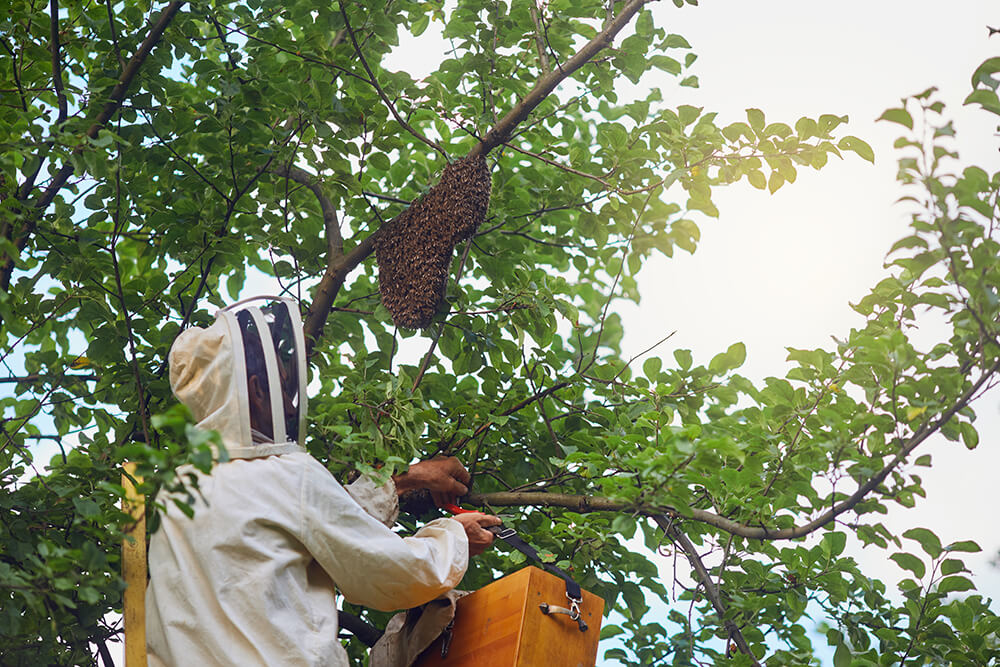 Our Beehive Removal Process:
1. Evaluation and planning:
We start by carefully evaluating the beehive and its surroundings. Our knowledgeable beekeepers will analyse the hive's location, size, and accessibility as well as any hazards or difficulties that could arise during the removal procedure. Based on this evaluation, we create a unique plan for a secure and effective hive removal.
2. Secure Removal Methods:
To remove the beehive safely, our knowledgeable crew uses procedures and tools that are commonplace in the beekeeping sector. The health of the bees comes first, and we make every effort to move them rather than kill them. We minimise disruptions and guarantee the safety of our crew and the surrounding area by employing specialised tools and protective gear.
3. Bee Migration:
When possible, we move the bees to a better place, like our bee farm or another suitable environment. Our skilled beekeepers collect and move the bees with care, guaranteeing their survival and capacity to carry out their crucial pollination job.
4. Hive Restoration and Cleanup:
We handle the cleanup after the beehive removal, making sure that the area is clear of any lingering trash or hive remnants. If necessary, we can also help with hive restoration, taking care of any structural problems and offering suggestions to stop further infestations.
5. Prevention and education:
We think that educating our clients about bees and their behaviour will benefit them. We provide advice on how to avoid future beehive formations as part of our service, such as blocking potential access sites or putting in place bee-friendly landscaping practises. Any inquiries you may have may be addressed by our staff, which is also accessible to offer ongoing support and guidance.
Why Do Beehive Removal at Cayman Bee Farm?
Professionals with Experience: Our team is made up of seasoned beekeepers that are knowledgeable about bee behaviour and hive removal methods. In all of our activities, we put safety and the ethical treatment of bees first.
Responsible Bee Relocation: We strive to relocate bees wherever it is practical, helping to protect these essential pollinators and their crucial function in ecosystems.
Individualised Solutions: We are aware that every beehive removal circumstance is different. We customise our services to match your unique demands, resulting in efficient and unique solutions.
Customer happiness is our first goal, and we will work hard to earn your approval at every stage of the beehive removal procedure. We aim to treat our customers with professionalism, openness, and communication.
Get in touch with Cayman Bee Farm for Expert Beehive Removal:
Trust Cayman Bee Farm if you need beehive removal services in the Cayman Islands. Our knowledgeable staff is prepared to help you in a secure and responsible manner. To book an evaluation or to learn more about our beekeeping services, get in touch with us right now. Let's work together to develop a solution that benefits the bees and you.